I've been on somewhat of an anti-summer kick lately…tired of the heat, bored with cobalt blue, totally over gladiator sandals…my fashion mindset has been all things Fall, all the time.
Like a slap across the face, Sheila Frank's adorable retro bathing suits have completely snapped me out of it. Look, it's still freaking H-O-T. Remember those darling one-piece suits we told you about earlier?
What better time than the present to lounge around the pool in these numbers: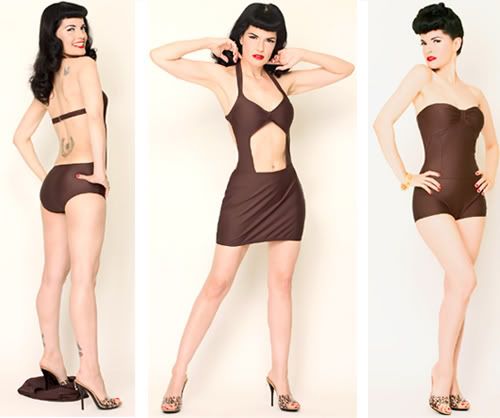 I'm partial to the chocolate brown, but if you're so inclined, they're also available in a saucy leopard print too. Best of all they're marked down from $74 to $52.
Find the stores nearest you that carry this line, as well as a smattering of online boutiques here.
Don't say I never gave ya nuthin'. Now be a lamb and pour me a coconut lime ricky would ya doll face?