I am a big fan of OPI polish - it's usually the only nail lacquer that actually stays on in between manicures, the colors are beautiful, and the names make me chuckle so I'm hooked.
They just launched their La Collection de France for Fall 2008 and I am totally smitten. Though the colors aren't all wacky and wild in that Mac sort of way they are no less covetable.
What you do have are your standard earthy rich jewel tones but what makes these unique in my eyes is their "smoky" quality. There seems to be a grey/taupe cast on many of the shades which gives the collection an understated elegance, which I suppose is very French.
To see the full range of colors click
here.
I got a mani the other night with
Parlez-Vous Opi
and then went on a Googling expedition to see if I could find some similarly obsessed beauty addicts. I didn't have to look too far: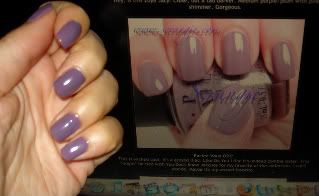 Blogger
Scrangie
and I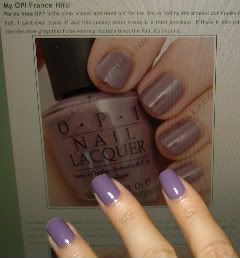 Me n'
All Lacquered Up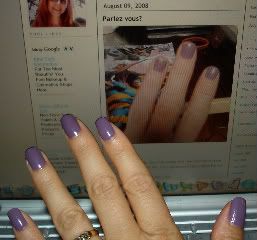 And a couple of days later
A Hell of A Girl
is still raving.
I find it interesting that the color looks much "muddier" or "taupey" on the others...I'm sure the computer monitor and digital camera stuff doesn't help but still -- it does look different. I even went so far as to take another shot in different light: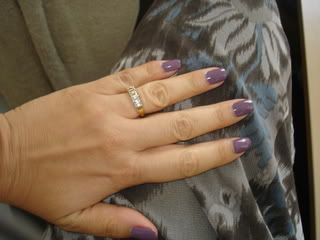 Maybe it's my skin tone? In any event, I'm loving it and can't wait to try the rest of the collection. Next up? You Don't Know Jacques!