Remember when the Sex And The City movie premiered and every one wanted to get their well manicured mitts on a pair of Carrie's
Dior gladiator pumps
? Though it feels like eons ago in actuality it's only been about two months...or about the time it takes for someone to come along and knock them off.
If you're still craving a pair, thank
The Fashionable Housewife
whose mad internet skillz turned up a pair for under $20: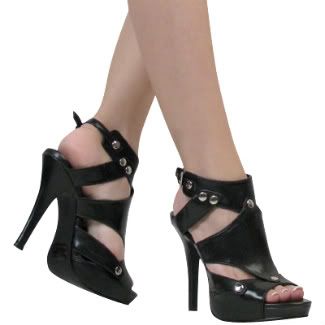 Available through a seller on eBay, natch, they come in black, grey, and ivory and come in multiple sizes. Of course with shipping they're more like $30 -- but heck -- that's still way cheaper than the Steve Madden & Baker's knockoffs that turned up earlier.
Curious? Check out the goods
here.