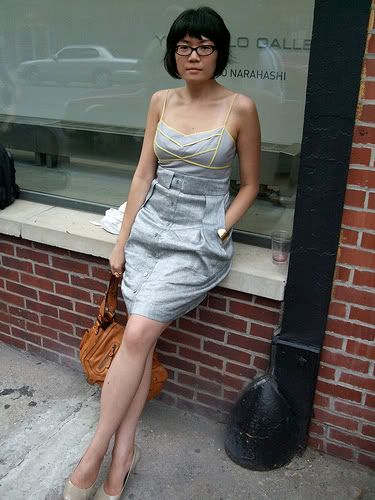 One of the things that I admire most about New York women is their uncanny ability to look chic even in the most ungodly weather conditions.
While I get frizzy, shvitzy, and altogether schlubby in the humidity, others unbelievably shine. Melissa, seen here at a recent art opening, looks so cool in this ensemble – a burst of fresh air that cuts through the stifling NYC heat.
Elegantly turned out in a Development by Erica Davies dress, Opening Ceremony patent pumps, gold cuff and Hayden-Harnett bag, we love how she mixes and matches different colors and textures for a supremely chic look. A yam-colored bag pops against the neutral dress and pumps in an unexpected nude patent leather, while the citrusy-lemon color piping and high waist adds structure for a look that is totally polished.