When this image appeared in my mail this morning I said to myself, "Self -- those are some badass kicks -- surely they are outrageously expensive and not terribly practical for a working girl on a budget toiling away in some cubicle for The Man."
Imagine my surprise upon learning that these models are actually rocking
spats.
Yeah, those turn-of-the-last century accoutrement that seem so adorably quaint...on dancing girls in some old Hollywood musical.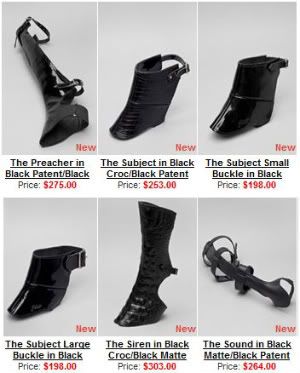 Sure they're a tad spendy, but when you consider the many wardrobe extending possibilities these babies offer the CPW* is actually quite low. Not to mention their priceless ability to elevate your humble Payless pump to sexy rock goddess proportions.
From one shrewd cubicle bunny to another, I thought you'd appreciate the tip. Find them at
Revolve Clothing
.
*(cost per wear)