I'm sure there is a perfectly logical explanation for this but I can't help but wonder, if I were Jenny McCarthy how would I feel about my boyfriend being able to fit into my swim togs?!
Though I'm sure most who stumble upon these photos will zero in on Mr. Carrey's attire (which, btw, eerily reminds me of that neon green Borat unitard from a few years back) my eyes were all over Jenny's tres fabu ombre dress.
I'm not certain, but my guess is it's this one by Scoop: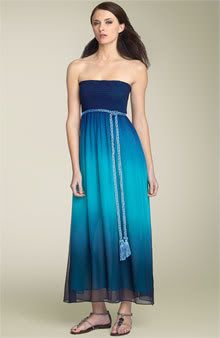 Now that's a number I'd like to see Jim Carrey rock. Get it at
Nordstrom.