I've only recently caught the PR bug but I wanted to post a few quick observations and open up the floor for discussion.
Though it wasn't my favorite look of the night, I didn't think Korto's gold dress was so bad. Allow me to illustrate: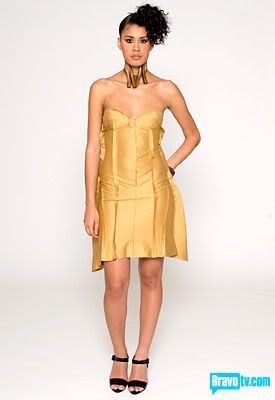 I think it was Mr. Kors who made some snarky comment that involved wings...I can't remember...but regardless I thought the concept looked vaguely familiar, so: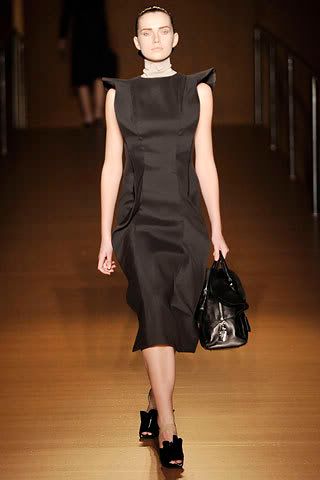 Voila, from Prada's Fall 2008 runway collection. C'mon people, if she's sharing Miuccia's design aesthetic, Korto's all right by me.
And on to supa-stah Christian Siriano.
I really dug his Marchesa style ruffly concoctions at Bryant Park so I had high expectations for his Bluefly collection. Sadly, it leaves something to be desired. It's a bi-polar mix of stuff that's either
blah
or
bang, pow, zoom!
and honestly:
1) I don't attend many over-the-top occasions where such things are appropriate, and
2) if I buy a $96 t-shirt it better make me look 10 lbs. thinner and wash itself.
But I'm not going to dis the whole thing because if I HAD to pick one thing it would be: