...and we couldn't agree more!
Topping the women's list:
H.R.H. CROWN PRINCESS MATHILDE OF BELGIUM
CARLA BRUNI-SARKOZY, model, singer,
First Lady of France JULIA KOCH, mother of three
EVELYN LAUDER, cosmetics executive,
photographer, philanthropist KATE MIDDLETON
MICHELLE OBAMA, vice president for community and external affairs, University of Chicago Hospitals (on leave)
SARAH JESSICA PARKER, actor, producer, entrepreneur
TILDA SWINTON, actor
DIANA TAYLOR, managing director, Wolfensohn & Co.; chairperson of the Hudson River Park Trust; New York City¹s de facto First Lady
IVANKA TRUMP, vice president of development and acquisitions, the Trump Organization; president, Ivanka Trump Jewelry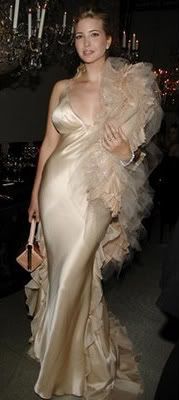 My personal faves from this list are Tilda Swinton, Ivanka Trump, and most of all, Michelle Obama who has single handedly brought style back to Washington D.C.
Agree? Disagree? Comments encouraged!
Read about the rest of the winners
here.