Because I'd like to start this dreary Thursday morning on a positive note, check out these sales:
Polkadots & Moonbeams is a cute boutique I used to shop at when I lived in Los Angeles. They tend toward the retro and girlicious (oh no I didn't just use that word did I? yikes!) so vintage vixens should check them out
here.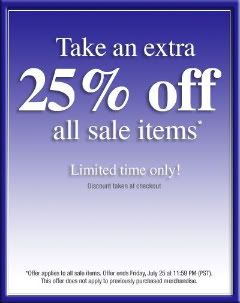 Goodies as much as 70% off...who couldn't use a little luxury every know and then? Shop
here.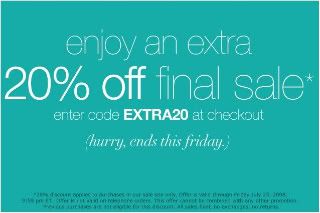 Hands down, J. Crew makes the best basics. Their superb slim fitting tees are now $14.99 less an additional 20% with the code extra20. I just scored a totally cute pair of John Varvatos for Converse kicks for $23 - I can't hardly wait to get them! Check it out
here.
And make every day feel like Christmas morning with Shop It To Me. I can't tell you how many fab things I've scored through this service...well I could, but my hubby wouldn't approve so let's just say this is our little secret, k?
Anyhoo, it works like this: shoppers select their favorite designers and brands and then get emailed daily or weekly whenever those goodies go on sale. Brilliant! Sign up
here.