(photo: Just Jared)
Rihanna is a rare bird. What I mean by this is she's a member of the young Hollywood elite -- and surprisingly, her style doesn't make me want to hurl (Lindsay, Paris, Heidi: I'm talking to you ladies, and I use that term loosely).
Just take a look at her loveliness above...the makeup, hair, dress, and don't even get me started on those fab necklaces...she just glows. Of course RiRi could make a Hefty trash bag look like couture but I'm willing to bet many of you can pull off an equally sexy look.
These two might do the trick, plus they're both on sale at the moment:
Fluid liquid gold by Vivienne Tam. Get it at
DJ Premium.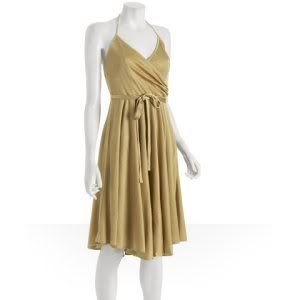 From the eternally flirty Betsey Johnson. Get it at
Bluefly.
Put on quite a show in either of these numbers and get ready to take a bow.