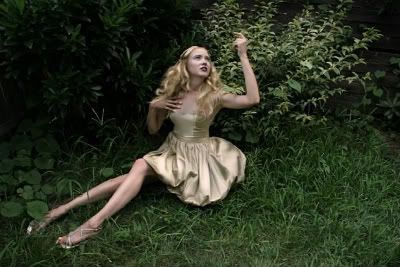 We've been crushing on
Sheila Frank
for a while -- you may remember this from a previous
post
about her sexy retro pinup girl swimsuits.
After attending her Spring 2009 ready-to-wear collection during Fashion Week we were left with an overwhelming desire to fast forward through Winter so that we could slink ourselves into her über glam frocks as quickly as possible.
Though the inspiration was clearly rooted in Sheila's beloved vintage, this time around her designs were a little less '50s rockabilly, a little more turn-of-the-last-century Gibson Girl – and we couldn't have been more impressed.
The collection was a charming blend of worldly sophistication and girlish virtue; sexy and innocent but not at all prudish. The kind of girl that just oozes sensuality – she just doesn't know it. Silhouettes were sleek and simple in shimmery fabrics; a weave over here, a little ruching over there: small embellishments with maximum impact.
Intrigued?
You should be. Check out our
Flickr
album and take a peek at Sheila's
site
for more info on where to purchase.