I've tried to curb my Etsy expeditions because it's just too easy for me to go overboard.
Well, the embargo's off. Who's to blame?
Suzanna Scott's shop
Sushipot.
Suzanna says her inspirations "come from things old, chipped, cracked, worn, dusty, used, found, buried, designed, loved, pieced, intricate, aged and transfigured."
I. LOVE. HER.
She makes a variety of decorative objets that I totally drooled over but I thought I'd share a few of her whimsical pendants:
Creepy, crawly, cool -- this is how I like my bugs.
Some people where their hearts on their sleeves. I'd rather wear a stomach around my neck.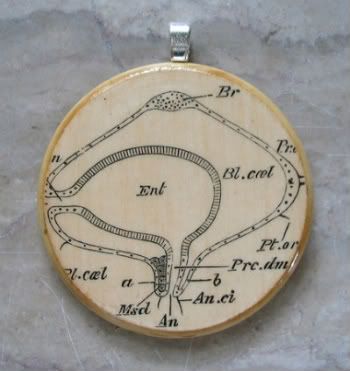 I'm not sure what this is a diagram of but I think I would feel like some irresistibly cute lab geek the moment I put it on.
Check out the rest of her stuff
here!