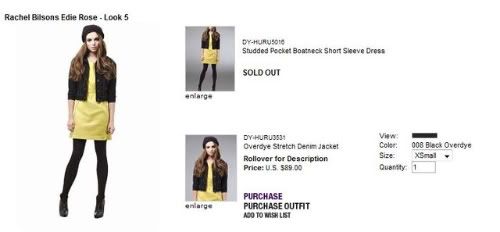 Sure, celebrity-designed clothing lines are getting more common. It's no surprise when you consider that just 20 years ago you could buy a copy of Vogue or Bazaar and see an honest-to-goodness runway model in all of her glossy glory on the cover, not some pop tart pushing her latest offering. Who woulda thunk that those stylish
glamazons
of yore would be nearly extinct today?
Well, step back
LiLo
,
Heidiwood
is just one exit away from Style Oblivion, and celebrity? Golly, I want no part of it.
Except, of course, for Rachel Bilson's collaboration with
DKNY.
Naturally the très chic yellow studded dress that I coveted is SOLD OUT, but the rest of the collection isn't so bad. Take a peek!