Fashion Week is coming to a close and it's cold and rainy here in the City. As I stare out at Bryant Park from my office window, I'm in dire need of a sunny pick-me-up.
This week's Rosa Cha show is just the ticket.
The Brazilian swimwear designer sent models floating down the runway in perhaps the most glam bathing suits and flowy caftans I've ever seen.
Pistachio, white, and coral suits encrusted with luxe embellishments like Swarovski crystals and chunky beads make these suits too pretty to get wet -- if I were about 10 lbs lighter I think I'd throw a sarong around one, get my hair did, and head out for a night on the town.
The suits will have to wait, but the sexy, glossy hair? I'm all over it.
I asked our resident hair expert
Edward Tricomi
how he achieved the model's sleek runway locks. Turns out the secret is in the serum.
Pre Blow-Drying Calming Serum
to be exact.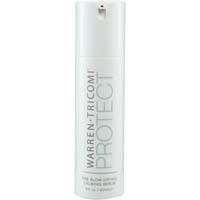 This lightweight formula tames frizz and adds shine without weighing hair down. It also acts as a shield, protecting the hair from the sun and humidity. (A big plus since frizzy hair just won't cut it when rockin' the Rosa Cha)
Edward used a
round bristle brush
, divided the hair and blew out each section separately spritzing volumizer as he went along to maximize the body and shine. A dollop of serum later and off the girls went, looking utterly fabulous.
Don't believe me? Check out the video below to see what I mean!