I love everything about this Tisha fringe boot: the yummy suede, the hint of pink, the stiletto heel - it's classic rock n' roll Betsey.
But what sealed the deal?
Voila: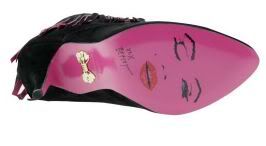 Yeah, I know no one will see it but I'd sail down the street knowing it was there.
Get it now at
Endless.