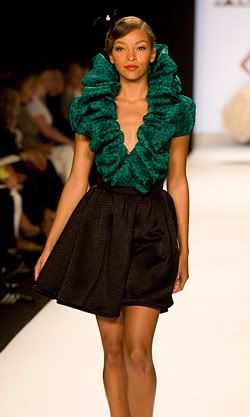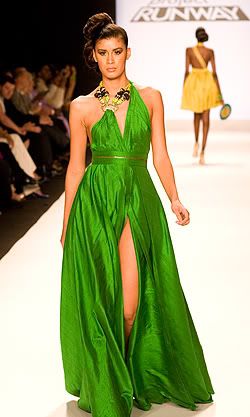 If you don't want to know who won stop reading now. Here's something to keep you
occupied.
The rest of you know that Leanne drove off into the sunset with her Saturn hybrid and $100K smackeroos - seemingly on her way to fashion design domination. Surprise, surprise.
She was a pretty clear favorite so the whole show was a bit anti-climactic to tell the truth but I am happy for her and look forward to seeing how she grows as a designer. On to the important news: you can now
bid
on all of the finalist's collections. In my previous post I said that one of Leanne's creations would top my list of must-haves. After last night? Uh-uh.
Korto & Kenley both hit it out of the park with their collections. Sure Leanne's were beautifully constructed but the colors were just
eh
and unless you are a size 0 would look pretty horrendous on most. K's & K's collections, on the other hand, showed more color, originality, and spirit. The two designs above have my name written all over them.
Agree, disagree? Let's hear it...and don't even think of outbidding me on these.