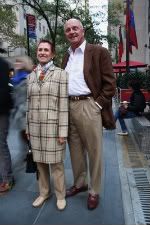 Some things never get old. Style is one of them.
Though they haven't been around long,
Advanced Style
has quickly become a must visit bookmark, and with good reason. AS is proof positive that style isn't about age, money, or labels - it's all about what works for the individual.
Sartorially speaking, there are so many wonderful things to point out about these folks; the fab hair and makeup, the natty overcoat, over-sized shades and accessories are personal reminders not to chuck my sense of style when I retire.
Don't you agree?