At the risk of sounding like a total nutter I have a confession to make: I have an aversion to squirrels. Thank my overprotective father for instilling this irrational fear in me as a child; whenever one would come within 25 feet, dear ol' dad would quickly grab me and warn that if the little bugger attacked I'd end up in the emergency room getting to know the business end of a 12" needle.
Growing up in the 'burbs of the Garden State there were plenty of squirrels scurrying about their daily business of doing whatever it is squirrels do, so this scenario was repeated with great frequency. To this day I have a minor freak out whenever I see one.
Why am I telling you this long-winded tale?
Because I've had a psychological breakthrough and I have jewelry designer and blogger
Wendy B
to thank.
She's created the cutest squirrel pendant in response to the popularity of her
acorn necklace
and I may need to get one to finally show my neurosis who's boss.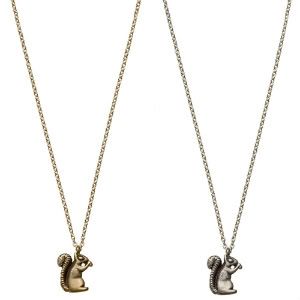 I ask you: how can such an adorable little creature in 18K gold or sterling silver be so bad? I think even dad would approve.