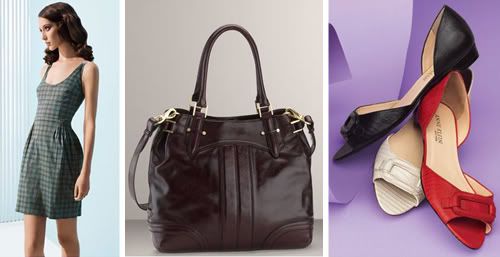 (From L - R: Prada, Cole Haan, Anne Klein)
One of the things that I miss most about living in the 'burbs (aside from the ability to wash my unmentionables, um, while wearing unmentionables) is hopping in my wheels to hit up the outlet mall for some serious deals.
Neiman Marcus' Last Call was one frequent destination. If you haven't been, it's a wonderful source for buying high end designer goods at outrageous discounts. I've gotten comfortable at both the Elizabeth & Philly locations -- here's a list of others:
Tempe, AZ
Milpitas, CA
San Diego, CA
Denver, CO
Naples, FL
Miami, FL
Orlando, FL
Sunrise, FL
Lawrenceville, GA
Hanover, MD
Auburn Hills, MI
Las Vegas, NV
Elizabeth, NJ
Central Valley, NY
Deer Park, NY
Limerick, PA
Philadelphia, PA
Allen, TX
Austin, TX
Dallas, TX
Houston, TX
San Marcos, TX
If there isn't one in your neck of the woods check out the "Sales & Values" section of Neiman Marcus'
website
for an almost as good experience.