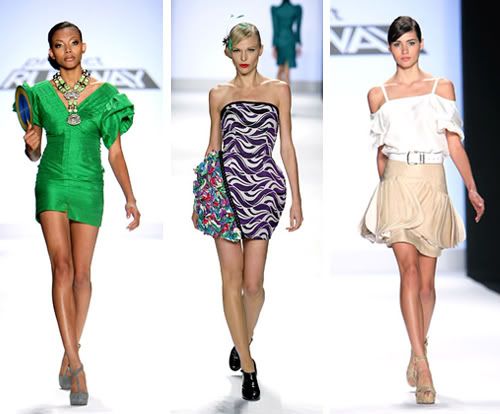 (photo via US Magazine)
Designers from L - R: Korto, Kenley, Leanne
As embarrassing as this is to admit, the current (5th) season's
Project Runway
has been my introduction to the fabulous chaos that is one of Bravo's biggest hits.
I've loved every mis-step (
American Psycho
raincoat anyone?) snarky remark, (Jerrell: "If you want a basic white t-shirt go to Michael Kors") and drama (oh the tear drenched meteoric rise to the top) so I am completely psyched for the big finale.
Here's my two cents on each of the finalists:
Korto -- She was a favorite of mine since episode 1. I love that many of her designs are infused with ethnic prints, beading, etc. giving the items Korto's unique signature. A touch funky but highly wearable (read: marketable) stuff.
Leanne -- Her designs, although amazingly intricate and well executed, tire me out a bit. I think it was Michael Kors who said at one point that her pleats look, "so labored and serious." I would have to agree with Sir Kors on that point. Having said that, a Leanne creation would be #1 on my must-have list, hands-down my vote as the projected winner.
Kenley -- Ah, Kenley, sweet-adorable-everyone-hates-her Kenley. I must 'fess that I've admired many of her designs from the start, she really nails the whole modern/vintage twist thing. That she clearly struggles with personal issues is another story, and as far as I'm concerned, irrelevant. Nothing that a good shrink or support group couldn't help. Besides, doesn't baggage just come with? Geez-a-lou I've got a matching set of Goyard luggage that I've been carrying around for years.
Thoughts, comments, opinions...etc. Fire away!!