Having nearly completed my first full work week since returning from my vacation I'm feeling a little bonkers, a smidge Animal Crackers, if you will, so I'm paying homage with a post dedicated to our furry and feathered friends.

I'm a sucker for anything with birds or feathers. Here I am with a barrette that I scored at a Kate Spade sample sale a couple of years ago. I had planned to wear it with my wedding dress but it was nixed by nearly all those near and dear so I completely chickened out. I still regret it. Do you like?
While trolling the blogosphere for more fashiony goodness, I stumbled upon these cuties on the Fleurr De Lux blog: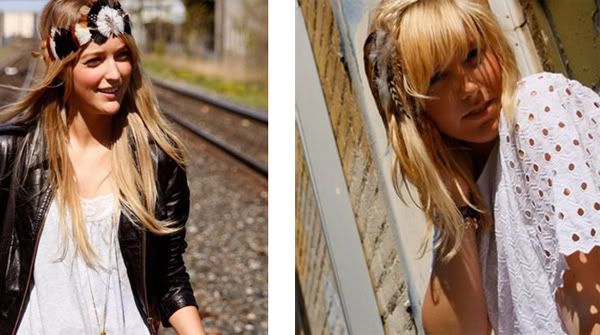 These looks are both so over-the-top fabulous that I hardly know where to begin. Though I'm not a fan of the teensy headband look a la Nicole Richie or the Olsen twins I la, la, love this feather version, paired with the leather jacket and what looks like an eyelet cami, it's the perfect combination of boho romantic and tough rocker chick. The second headband is fantastic as well, and I love how she channels the whole 20s flapper girl meets Stevie Nicks vibe.
And the feather theme continues…
So I got a lot of flack re: my comments about Sarah Jessica Parker's red carpet mis-step but my main beef really wasn't with the chapeau per se, actually I admire a gutsy move, especially if it involves a feather or two. Imagine my surprise when I stumbled upon this vintage hat on eBay:
A trip to Michael's for some faux green flowers, butterflies and a hot glue gun would turn this into the spitting image of the Philip Treacy creation – or leave it as is for a truly chic look.
As I write this there are three days left on this auction with a price of $29.95 which is great for such an exquisite vintage find. Take a look at the auction here.
And just one more bird reference I promise…
Deep down I'm really just a sensitive little luv bunny but I also harbor a deep rooted pleasure for the subversive or just plain weird. I am all over these badass pieces on Supermarket:
Find it here
Or this scary don't go in the water piece.
And I know it's not really an animal but to me this bullet hole necklace looks like a cool underwater sea anemone-sponge-coral thingie and I really love it.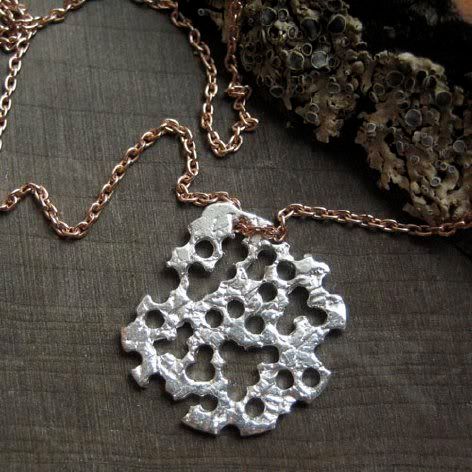 Find it here.
TGIF ladies and gents – have a killer weekend!