The choking heat continues here in NYC so my eyes are constantly peeled for light breezy clothes to help me cope.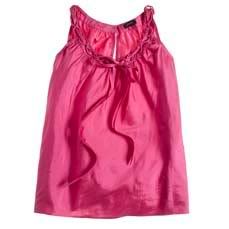 I saw a girl on 5th Avenue yesterday sporting this sweet pink top and it is so much prettier when it's on an actual person rather than crammed into an overstocked clothing rack. She looked so comfortable and chic and I totally regretted not trying it on my previous marathon J. Crew shopping extravaganza.
I am a sucker for all things ombre so this silk charmeuse tank really leapt out at me. Since there isn't a Dillards anywhere nearby I haven't seen it in person but this picture really makes me want to whip out the ol' MC and give it a whirl.

Some of my best purchases were made this way and I'm feeling a little lucky. Would you buy something online sight unseen?