Please don't hate me for this - it's all just harmless fun. In keeping with my senior citizen's theme: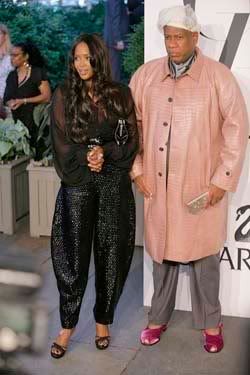 On their way to the early bird special at Shoney's, Andre Leon Talley and Naomi Campbell opt for MC Hammer pants to better camouflage their matching Depends.
Donna Karan – The latest from her collection DKN WHY???
Eva Longoria – Not content to stick with her wholesome Malibu Barbie wardrobe, a saucy Eva dons an edgier Bratz-inspired frock. Hoochies everywhere hang their heads in shame but morticians worldwide applaud her bold use of pasty lipstick and garish eyeshadow.
Event: CFDA

Photos from Jezebel.com