One of my guilty pleasures is devouring the
Page Six Magazine
in the Sunday
New York Post
every weekend without fail. Even the
New York Times Style Section
has lost it's proverbial luster since the glossy found it's way into my weekend routine.
This weekend featured 30 Rock starlet Jane Krakowski in fabulous 40s-inspired waves and uber glam red lips. I've never seen the show, quite frankly, I didn't realize Jane was still in the biz, the last time I saw her she was one of Ally McBeal's slutty but funny office mates always quick with a one liner, a welcome respite from Ally's space cadet delusions.
What really struck me about the cover was her skin. It's FLAWLESS. I'm convinced she's joined
Kristen Davis
in the freaky
we've sold our soul to the devil and have stopped aging
cult. Either that or she dunks herself in a vat of La Mer every night before bed time.
Take a look at her then & now: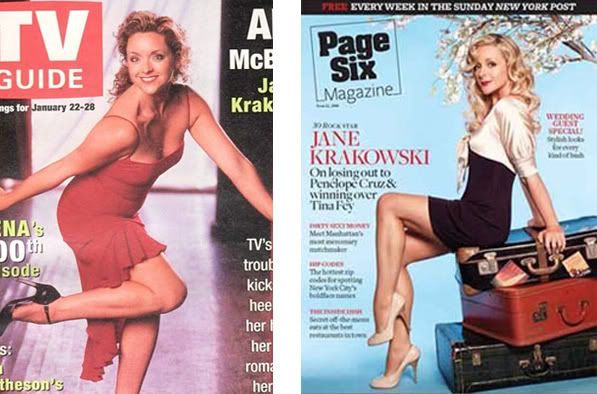 What do you think? If anyone knows what beauty products she uses please do tell.