Being a born fashion addict I naturally took to thrifting at an early age. During my tenure as a flea market diva I have scored more than my fair share of gorgeous vintage pieces. I've also been around long enough to experience firsthand the "inspiration" pieces by many of today's top designers. So you can imagine my surprise when I found this lovely Brian Atwood clutch on Saks.com: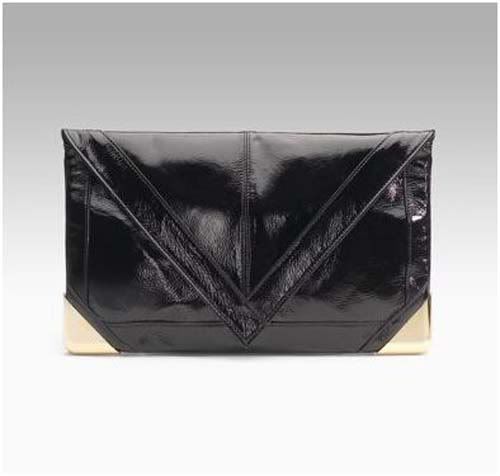 Très chic, no? Made in Italy of buttery leather and finished with gold metal corners this envelope clutch is so beautifully made it's a Must Have even with a price tag of $1,580.
Or maybe not.
Because you see my friends….
Behold my lovely, Made in Italy, black leather envelope clutch with gold metal corners that I paid, oh $5.00 for at a NJ thrift only 2 years ago. And oh yeah, I bet ya $1600 that Atwood version doesn't have camel leather interior or this cute mirror and change purse.
Now I realize that you need to dig through a lot of grody items encrusted with god-knows-what to unearth such a treasure but c'mon I find it appalling that 1) a designer can so blatantly rip off a vintage piece and 2) charge such an exorbitant price for a fairly simple item.
What do you think about designer's inspiration pieces? Are they merely ripping off the past or paying homage to the classics? And on a more upbeat note, what was your best vintage find?