If this weekend's heat wave made one thing painfully obvious it's that hauling my fat pasty behind all around muggy NYC streets in denim and otherwise constricting materials is O-U-T, out until Labor Day.
Though a visit to the gym for a squat, lunge, lift or all of the above wouldn't kill me, I'm taking the easy way out for now by shopping for some easy breezy togs that will help me feel a little less walrus-like and a wee bit more stylish.
On Lucky Magazine's Shop Girl recommendation, I visited the J. Crew in Columbus Circle in search of this dress: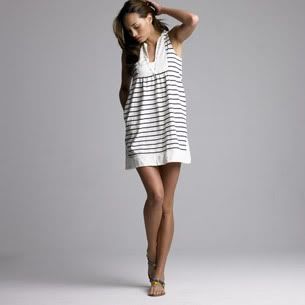 Her description of the dress, as per usual, was spot on. The cotton is soft with a sort of shabby vintage feel and the tunic shape falls away from the body so it's super comfortable. Much to my delight I had to size down which of course sealed the deal.

It was the only dress that I walked out with but I've added the following to my Must-Have list:
Soft? Check. Colorful? Yup. Flowy? Sure. You can't go wrong with either of these.
This one's a cutie too – and in a lightweight silk, a tiny bit dressier so I'd do this for a summer soiree.
And this one is so light; it's the next best thing to being naked. It's perfect as a beach cover-up but definitely wearable on sticky City streets.
Hightail it to J. Crew before they're all gone!