I'm officially old.
Why? I have been on the prowl for cute pill boxes.
Let me back up for a sec. After a long Memorial Day weekend plowing through assorted health/beauty manuals including You: The Owner's Manual by Oprah approved Michael F. Roizen, MD and Mehmet C. Oz, MD, as well as Dr. Nicholas Perricone's Ageless Face, Ageless Mind: Erase Wrinkles and Rejuvenate the Brain, I've discovered that taking things like baby aspirin (good for cardiovascular health) and enzyme tablets are not only good for your guts but beneficial for your skin. Naturally, I ran out and scooped up whatever I could find to ensure that my complexion remains as smooth as a baby's bum or at least obeys as Kristin Davis' awe-inspiring mug.
The problem now becomes how do I cart these things around and not look like a demented granny with a sandwich bag full of meds?
Enter Etsy to the rescue.
I could get all sassy with this "No More Bitchy Pills" box:


…or modern with this chic snakeskin in an of-the-moment metallic: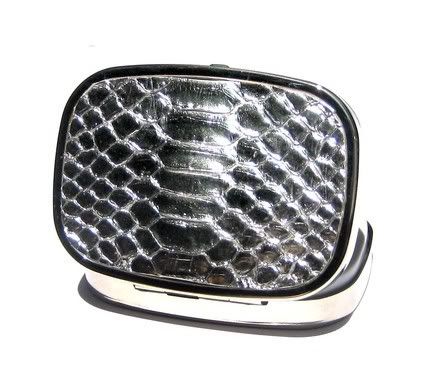 …but there's something sweetly nostalgic about this one that appeals to my girly sensibilities: