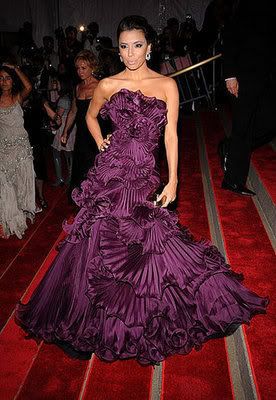 I always look forward to the Met's Costume Institute Gala, it's sort of like New York's Oscars, yet (delightfully) 100% Joan & Melissa-free. That's not to say that the red carpet didn't have its awkward moments.
Although Katie Holmes had fun with the "Superhero" theme this ensemble is One. Hot. Mess. Armani or not, it's just wrong on so many levels. The color, sequins, electric blue shoes, gold chains, and cakey tranny makeup - someone please make her stop, it's just too much '80s excess for the normally elegantly clad Holmes.
On the flip side is Eva Longoria in a stunning aubergine Marchesa gown. Thankfully Eva kept it classy with flattering hair and makeup and just a pop of sparkle with her dangly earrings but it still fell short IMHO. Why? The dress overwhelms her petite frame and is better suited for taller glamazons like Nicole Kidman or Cate Blanchett.
What do you think?