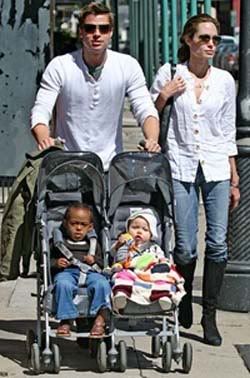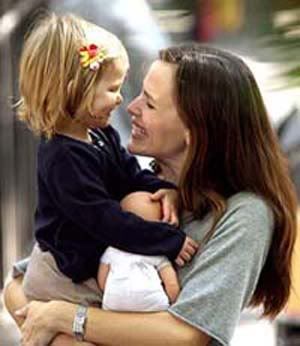 While trollin' the web for chic Mother's Day gifts, Google instead decided to show me hundreds of references to celebrity moms and their equally glamorous spawn. It's hard to escape our fame-obsessed culture so in honor of the holiday here are two haute Hollywood moms and why I love their style!

Hello and Woman's Day magazines just voted Angelina Jolie "hottest" - or most stylish - mom.
I'll have to agree with that. She's drop-dead gorgeous, successful, and married to Brad Pitt – in short she has it all. But the real reason I love serial mom Angelina is her willingness to challenge the status quo and make a difference through her humanitarian efforts. That, and the fact that she forgoes the typical sherbet hues and rainbow designs normally associated with children's clothing in favor of dressing Maddox and Zahara in faded Black Sabbath t-shirts and cargo pants, making her totally girl crush-worthy in my book.


On the flip side of the mom style spectrum is Jennifer Garner and daughter Violet. (I mean seriously, how cute is this pic?) If Angelina is the fascinating too-cool-for-me hipster then Jennifer is the girl next door that I so want to go to Starbucks with to gossip and swoon over baby pics. I applaud her for ditching the overly-made up look of typical celeb-u-moms in favor of hanging out with Violet, sans make-up in ponytails and trainers, and still managing to look super gorgeous.


Now, I'm off to find something suitable for the moms.


Have a great weekend!