As promised, here's a post about the 2008 Makeup Show that I attended last week. I'll post another once I emerge from this allergy-induced fog that I've found myself trapped in!

I sat in on a seminar given by Make Up For Ever Director of Artistry & Development Kevin Bennett and was taken with his down-to-earth charm and fun presentation. I felt like I was in the presence of a bona-fide expert – and of course I was, what with 2 Emmys under his belt and over 20 years in the biz, this guy knows his way around an eyelash curler.
He was at the show to talk about the HD trend in makeup and his personal experiences working with actors on set to make them shine-free and flawless. He said something that really hit home with me, and it was along the lines of, as consumers we always hear that products take time to improve our skin's appearance but as a makeup artist he needs to make someone look gorgeous RIGHT NOW. Amen, my friend. Never one to turn down instant gratification, I was hooked.

He then applied a curiously white powder all over his lovely model's dark skin. The audience's skepticism was palpable but wouldn't ya know, her skin went from pretty to perfectly finished in .02 seconds. The magical dust in question is MUFE's best selling HD High Definition Powder which you can find at Sephora.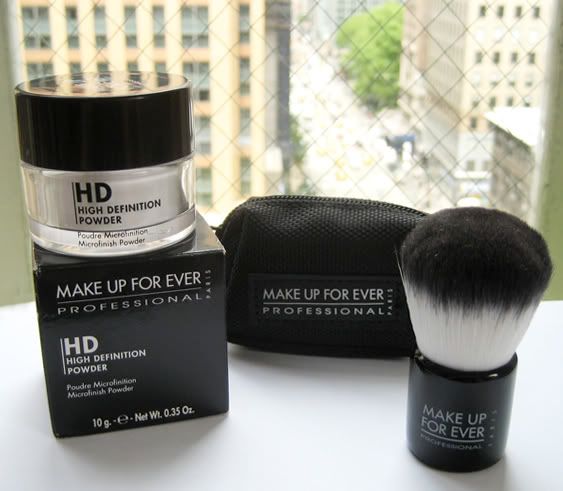 Sadly, they were out of the foundation and primer shades that worked best for my skin, but I was able to score a kabuki brush (not in stores until August 2008) in an adorable little pouch. (Retails for $39)
I also took the opportunity to play around with more of Makeup For Ever's products and I have to admit I haven't been this impressed with a cosmetics line in a long time. The colors and textures are really heavenly. Their concealer palettes offer plenty of mixing options and the foundation shades are quite natural looking and come in a variety of colors to suit any skin tone. After trying their Mat Velvet foundation with the coordinating powder my skin literally looked airbrushed – no exaggeration.
While their foundations, powders, and concealers are quite natural looking, their eyeshadows and liners are outer-worldly. I was having a little "marine" moment so I played around with some shimmery teal and blue shades that surprisingly complemented my coloring and didn't make me look like a 15 year old playing dress up.

Best of all, their products are talc and paraben free which is a bonus if you have blemish prone or sensitive skin.