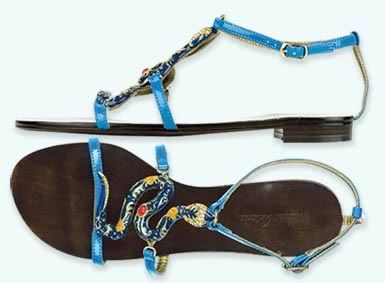 Though it probably should, being old enough to have a teenage daughter hasn't prevented me from shopping in the same stores favored by the pre-pubescent set. I could spend an afternoon in Forever 21 giggling over the '80s-inspired togs that I rocked back in the day and relive my angsty youth perusing the wares at
Hot Topic
. Naturally I pored over the latest Alloy catalog with schoolgirl-like glee.
And I'm so glad I did. The best thing about shopping like a teen is scoring trends for, like, a kajillion times cheaper than stores for those who are all growed up. Faced with a dizzying assortment of sandals and wedges that are both mom and kid friendly I settled on these. The enamel ornament and the bright blue straps appeal to my girly-girl sensibilities, while the $39.50 price tag leaves money left over for the rent, car payment, cable, etc.
Available at
Alloy
.
Why should young girls have all the fun? Use promo code: AHF625M at checkout to get 15% off your entire purchase!