The Bronx is up but the Battery's down
The people ride in a hole in the ground
New York, New York it's a helluva town!
Fleet Week is in full swing in the Big Apple and I do love seeing all of the cute young sailors in their pristine white uniforms whooping it up, well, like sailors on leave. It reminds me of that great musical "On The Town" starring Gene Kelly, Frank Sinatra, and that Other Guy. If you haven't already, put it on your Netflix queue, the fashions alone are worth the rental.

I have yet to see one of these modern day Navy hotties break into song and dance but I did feel inspired to seek out some cute nautical-inspired looks perfect for showing the boys a good time in Gotham.
Who does retro sex kitten better than Betsey Johnson? I adore the 40s vibe of this white halter dress.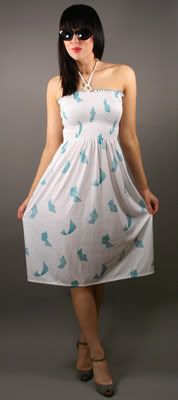 Or what about this sweet white and teal smocked sundress from one of the cutest eBay sellers ever,
Le Robo
?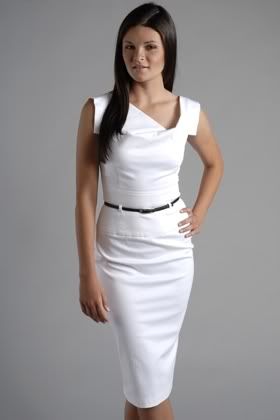 Okay, so this one's not nautical per se, but it is a girly take on the traditional sailor garb.