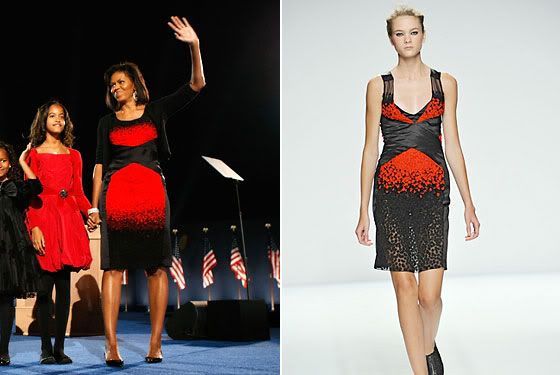 (photo via NY Mag)
Since this is a company blog, tossing around political opinions is understandably frowned upon...but that doesn't preclude me from raving about our "First Lady Elect" Michelle Obama's winning style on the blue carpet.

Resplendent in a silky custom Narcisco Rodriguez creation from his Spring 2009 collection, she took a runway look and made it totally wearable: kissing the sheer crotch goodbye (as if anyone would want that...um...ever?), opting for a more conservative neckline, and making it her own with fab earrings and yes, that tiny cardi which may not have been the most stylish choice but certainly made sense for a chilly Chicago evening. I like the criss-cross affect at the waist which I think works for her

Bodyline

as well.

Reviews have been mixed from the blogosphere so I encourage you all to chime in with your style verdict!