Our next stop in the style universe takes us to Los Angeles where Ev'Yan, better known as
Apricot Tea
to her blogging buds, proves that understated elegance doesn't have to mean classic and dull.
She
describes herself as frugal, old-fashioned and fashion-oriented.
We
say she gives the notion of thrift a much-needed update: from sensible to sensational.
The artist and writer favors a palette of neutrals accented with eye-catching accessories: a graphic scarf, a multi-tiered chain, retro fabulous Rayban Wayfarers. We adore her pixie hair cut and chic makeup -- she's the ultimate girly sophisticate.
Our final word? Follow Ev'Yan's lead: to learn more about how to get more wardrobe mileage from your neutral basics, login to complete your
Personal Profiles.
photos courtesy:

Ev'Yan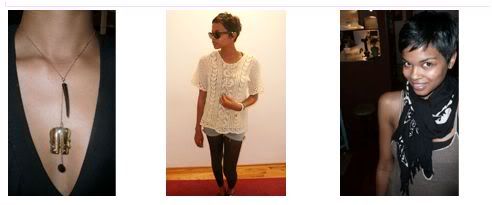 Wendy Mink
Jet Pendant Double Strand Necklace

Bluefly.com

Diane Von Furstenberg
Floral Print Scarf
Net-A-Porter.com

Ray-Ban

Wayfarer Sunglasses
OnlySunglasses.com