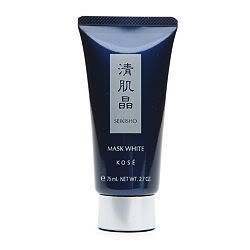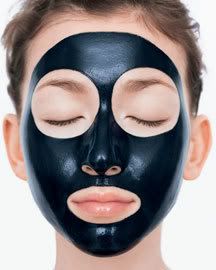 Let's face it; the beauty industry is filled with euphemisms to make us feel better about ourselves. By telling myself that my oily t-zone was "dewy" I had managed to avoid the underlying problem of my combination skin for longer than necessary. So last night, while watching Terri Hatcher butcher Carrie Underwood's

Before He Cheats

on American Idol Gives Back I reached for my as-yet-untried sample of Seikisho Mask White.
According to Kose, the Japanese company that makes the product:
This effective mask is formulated with Nano Black Powder, which creates an airtight seal on skin to allow the ingredients to work quickly and effectively to flush out impurities.
• Seven herb extracts, such as Wormwood brighten skin tone, while Moutan Bark, Coix Seed extract and Angelica extract hydrates and regulates sebum production.
• Nano Black Powder allows for ingredients to absorb quickly and provides an airtight seal.
• 1st peel off mask to contain Vitamin C. It suppresses melanin production, which prevents the formation of aging spots and freckles.
The gooey petroleum looking gunk that oozed out of the cobalt blue tube freaked me out a bit but the formulated with "Oriental Herb Extracts" label hooked me so as instructed I slathered it on thickly and patiently waited the 20 minutes through my husband's unrelenting jokes while the mask dried.
No lie - this baby is like Biore Strips on steroids, it grabs a bit so do exercise caution when peeling it off. Once removed what emerged was skin that was super soft, brighter, poreless and just plain CLEAN.
Given the vast improvement in my skin's appearance – even after this one treatment, I'm eager to continue using it on a weekly basis to see how it changes my skin's texture. I'd highly recommend this product for those with Oily or Combination skin types.
Buy it at
Beauty.com