Though it's been nearly a dozen years since Whitesnake recorded an album (and about 20 since they've had a hit) they're back in the news with a newly released CD called "Good To Be Bad." I just listened to it, and it's not half bad I must admit.
It got me to reminiscing about all of those great MTV videos starring Tawny Kitaen looking stunningly gorgeous writhing around and doing cartwheels all over some fancy Jag while a pouty, and somewhat pensive David Coverdale looked on. Ah, I love the 80s...but stick with me here kiddies...study this band pic closely. Spot the latest trends?
Look past the over-processed hair and bare chests (please) and note the fringe (so Balmain Spring 2008 runway), the electric blue (Theory, Badgley Mischka, Pucci), the slight iridescent sheen on that pink blazer (Alessandro dell'Acqua, Tracy Reese) and don't even get me started on that fab cuff bracelet and bib choker -- you get the idea.
Shop and discuss. Here's a look to get you started: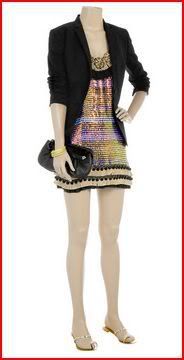 Matthew Williamson et. al. courtesy of
Net-A-Porter